2009 - End of Summer Showoff 10.04.09
What a awesome event!
On behalf of everyone at Tricked Out Car Club, we would like to thank all of our community partners for making our 2nd Annual End of Summer Showoff at Spinnakers Beach Club such a success! We reached beyond our goal and feel truly blessed to have such great members, community partners, friends and partner car clubs. We had strong representation throughout Northwest Florida and Southern Alabama!
We really appreciate all of your love and support and we look forward to seeing you all next year, September 2010, for our 3rd Annual End of Summer Showoff.
October 4th, 2009 - 2nd Annual End of Summer Showoff (EOSS) Final Stats:

Total Stats

160 Registered Show Cars & Trucks
800 People through the gates
Handed Out $3200.00 in Goodies
Raised $2900.00 for Local Charities - See TOCC Giveback Page
Event Timeline: 2:30pm - 12:30am
11 Car Clubs Present
Many, many enthusiasts/independents.
Good Times for All!
Platinum Partners

Spinnaker Beach Club - World Famous Spinnaker!

The Sleep Center - Discover sleep again!

Panama City Toyota - Scion - Where relationships are born!

Gulf Marine - Your marine headquarters!

Scion - What moves you!
Silver Partners

Emerald Coast Corvette Club - Fine automobiles and friendly people!

Panama City Auto Repair - The only repair shop you need. (Period)

Sommer Sound Systems - Car, Truck and Marine Audio, Video and Accessory Specialist!

Outlaw's BBQ - BBQ at it's finest!

Lil' Sparkie Charters - Capt. Ricky Raffield

American Muscle - Your Ford Mustang parts superstore.

Larry's Giant Subs - The Tastiest Sandwiches near the Tyndall Bridge!

Loco's Bar & Grill - Cold beer, large variety of food and the game on the TV's!

Angel X Customs

Mary Kay Cosmetics by Julie Richburg

John Lee Nissan - Mazda
Supporting Car Clubs

Tricked Out Car Club - Friendly, Respectful & Professional is the TOCC way!™

Emerald Coast Corvette Club - Fine automobiles and friendly people!

Mopar Enthusiast Car Club of America (Florida Chapter) - Reppin those Mopars in style.

Freeport Cruisers - Rockin' the car scene in Freeport!

BadBoyz EFX

Bay Mustang Club - Bay's dedicated Mustang club.

Prime Xamplz Car & Truck Club

American Muscle Car Club - Specialty club of American beauties.

Hot Wheels Car Club - Hot cars and cool people!

Classic Cruisers - Car enthusiasts that have fun!

Panama City LSX
Charity Focus:

Taunton Childrens Family Home = $1,000.00

Project 25 = $500.00

Boys & Girls Club of Bay County = $400.00

Salvage Santa = $400.00

Sims Veteran Home = $300.00

Animal Rescue of Bay County = $300.00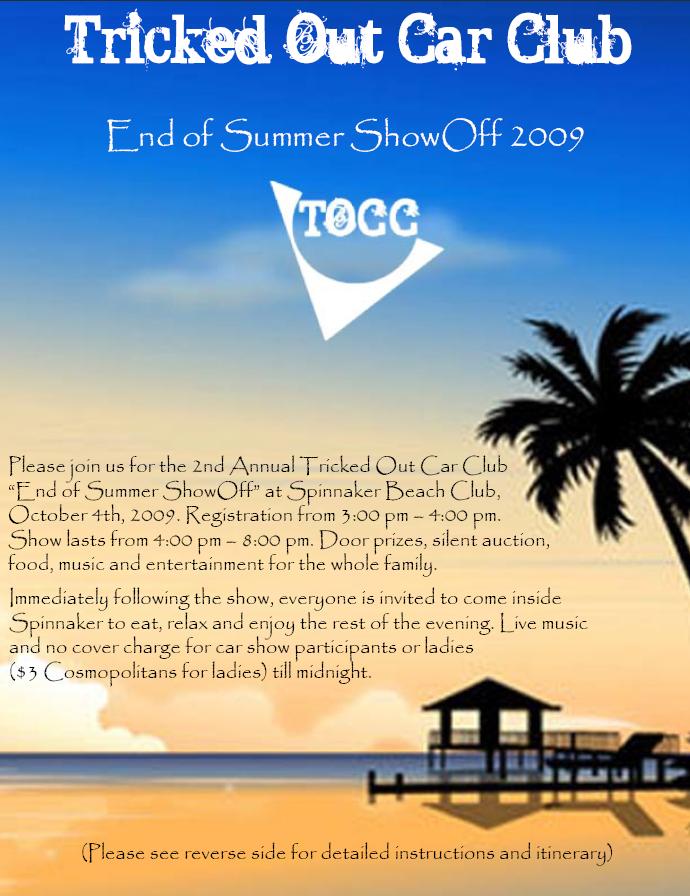 If you are a community business or individual that would like to help or be a part of this event next year, please contact us.